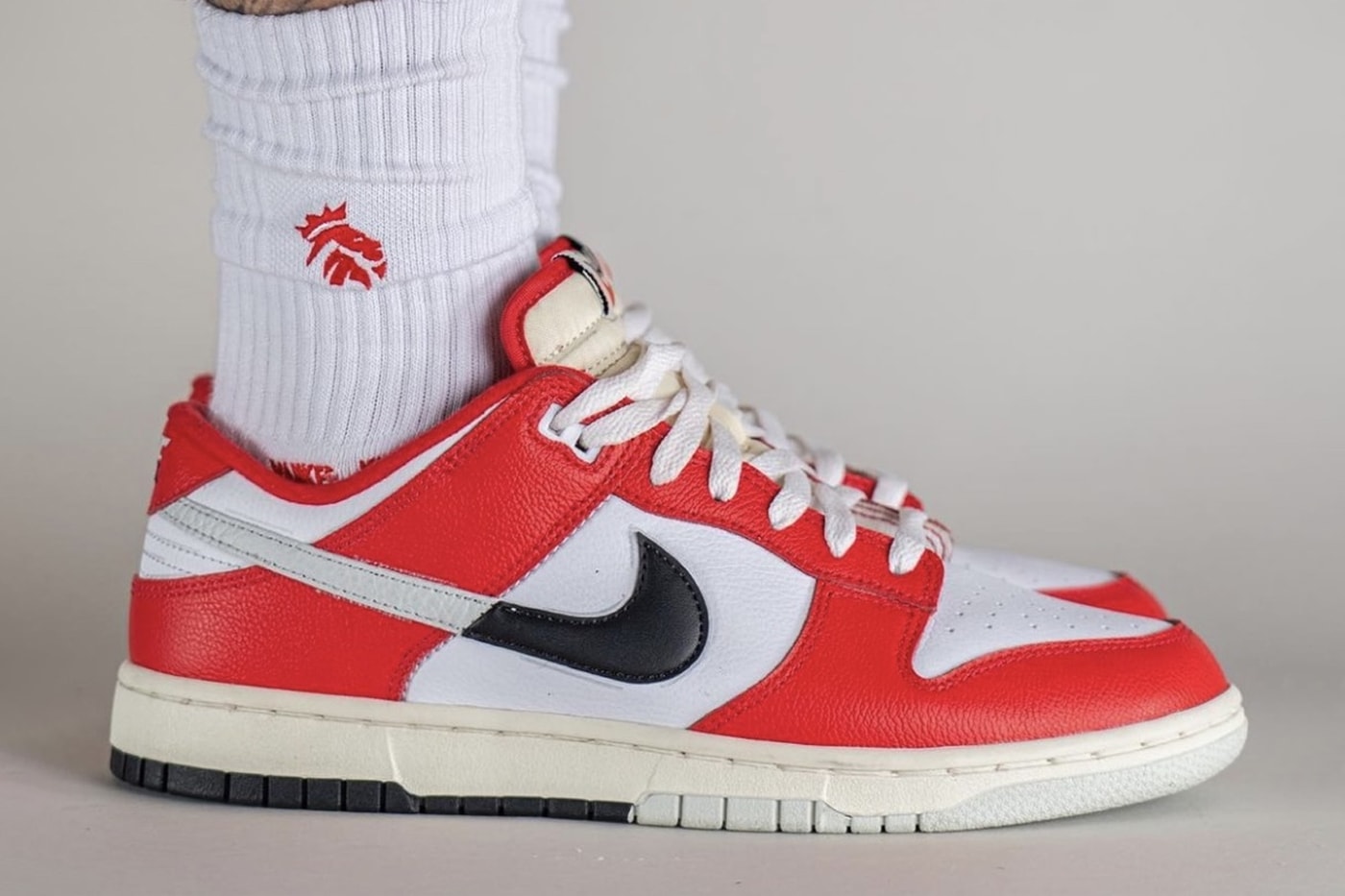 Image: Yankee Kicks
Once again, fashion and basketball come together in the latest rendition of a favourite
silhouette. The Nike Dunk Low will receive a Chicago Bulls-themed makeover. Referencing
the basketball team best known for their run with Michael Jordan through the 90s. But
twisting it to revitalise one of the most famous sneaker colourways. Here is what you need to know about the Nike Dunk Low Chicago Split.

Image: Yankee Kicks
What does it look like?
The sneaker comes in a white leather upper, with red leather overlays across the sneaker. The
laces come in black, and the midsole is dressed in sail. However, the twist comes in the form
of a "split theme". This theme becomes obvious on the outsole, which is white at the front
and black at the heel. Whereas the swoosh is black at the midfoot, but switches to white
around the heel. The branding also continues the split theme, with the tongue tag featuring
black thread sewn down the middle. And the heel tag features a half-bold white Nike logo,
and a half-italicised black Nike logo embroidered together. 
This follows on from the Nike SB Dunk Low Pro Chicago which released in late 2020, to much acclaim. Rocking the colourway of the Chicago Bulls, most famously worn on the Air Jordan 1. The sneaker was extremely popular. And it now looks like a similar colourway is making its way to the traditional Nike Dunk. Although originally made for basketball, this is only the second time the Dunk low has featured a Chicago colourway. Second only to the last year's Nike Dunk Low EMB NBA 75th Anniversary Chicago. As well as the Chicago colourway first debuting on the Air Jordan 1, the split theme has also been used before on the Air Jordan 1. Take the Air Jordan 1 Homage to Home for example. Which featured half of the Bred colourway, and half of the Chicago colourway, split right
down the middle.

Image: Yankee Kicks
When will the Nike Dunk Low Chicago Split become available?
We are yet to receive an official release date for the Nike Dunk Low Chicago Split. However,
since official images are now available, it likely won't be long until the sneaker is officially
unveiled. When it does, be sure to check out WOOVIN, to buy and sell sneakers at the best
prices.