Connecting the sneaker community in the real world.
Join us at the upcoming sneaker convention showcasing our top WOOVIN stores! The next event will take place on September 23rd at the Posthoornkerk in Amsterdam.


The
WOOVIN
Gallery provides physical space for stores selling online to showcase their products in the real world. The Gallery is a pop-up concept that will be hosted at various locations, offering stores the opportunity to sell their top sneakers and build a community by meeting the individuals behind the stores.We aim to foster not only the online community at
WOOVIN
but also facilitate opportunities for customers to personally connect with sellers. We strongly believe in the significance and value of seeing the faces and hearing the stories behind the sneaker stores. By doing so, we can collectively share our passion for sneakers and lifestyle.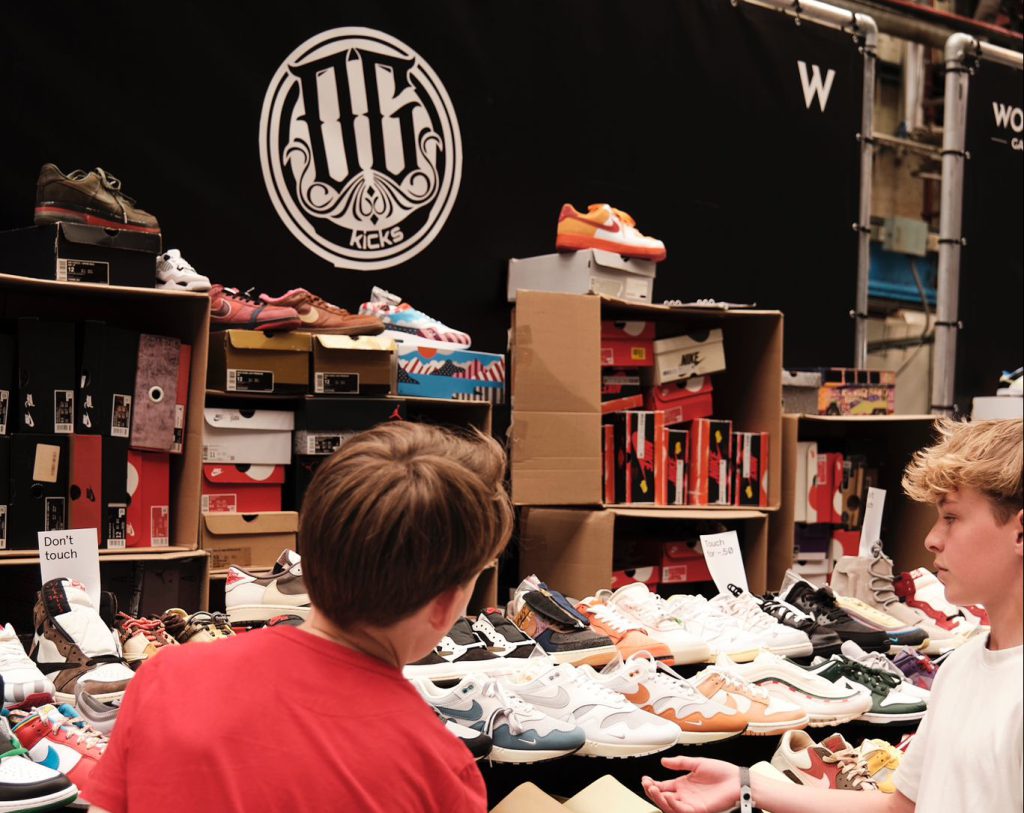 Empowering the sneaker community, together.
Welcome to our showcase of past events. Here, we present a compilation of our previous events. Take a moment to closely explore our galleries and witness the joy of bridging the gap between online and offline connections.
Uniting the offline and online community to cultivate greater engagement.
Explore the diverse range of stores showcased in our
WOOVIN
gallery. In a digital era where online platforms are gaining dominance, we steadfastly champion the inherent importance and delight of in-person connections. If you're interested in discovering the stores, we invite you to visit one of our galleries and experience them firsthand.
It is with great regret that we announce the postponement of our WOOVIN GALLERY AMSTERDAM, an event that many have been eagerly anticipating.

The WOOVIN Gallery team and the Posthoornkerk team have put a tremendous amount of effort into this event. Our visitors, stores, artists, and partners were all more than ready for it. We have worked hard alongside the Posthoornkerk team to resolve some unforeseen circumstances that have arisen in recent days.

We have made the difficult decision that finding a suitable solution to these unforeseen circumstances within the next 4 days does not seem feasible. Therefore, we must reschedule the event. We extend our apologies to everyone who was looking forward to our event on September 23rd. Please understand that this was not an easy decision for us. Our ultimate goal is to provide you with a great experienxe, and these unforeseen circumstances have made it challenging for both us and the Posthoornkerk.

We were more than ready to welcome all of you to the Posthoornkerk in Amsterdam for our very first exhibition, and we will do so in the near future. We are already hard at work planning the new date. We will keep you updated on all developments. All current ticket holders will receive a refund for their tickets very soon.

We want to express our gratitude for your enthusiasm for this event, and we look forward to seeing you soon in one of our upcoming WOOVIN Gallery editions!

Best regards,

Team WOOVIN 💙