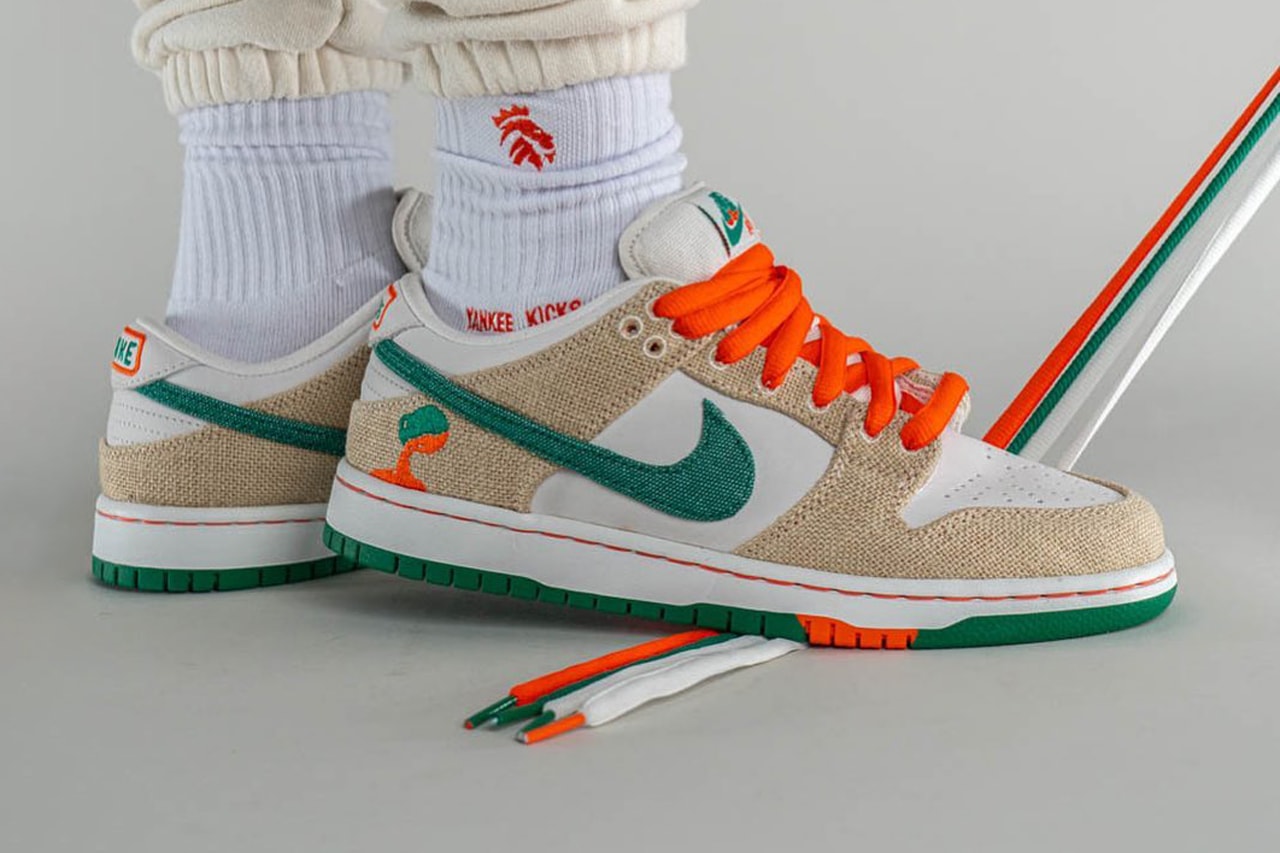 Image: Hypebea
A collaboration between soft drink brand Jarritos and Nike may not have been what we were expecting. But, after the success of 2020's Ben and Jerry's Nike SB Dunk, this also doesn't come as too much of a surprise. Jarritos translates in Spanish to "Little Jugs", referencing the Mexican tradition of drinking from clay jugs. They are a popular brand of soft drink hailing from Mexico that have since had worldwide success, often featuring in Mexican restaurants in their many brightly colored flavours.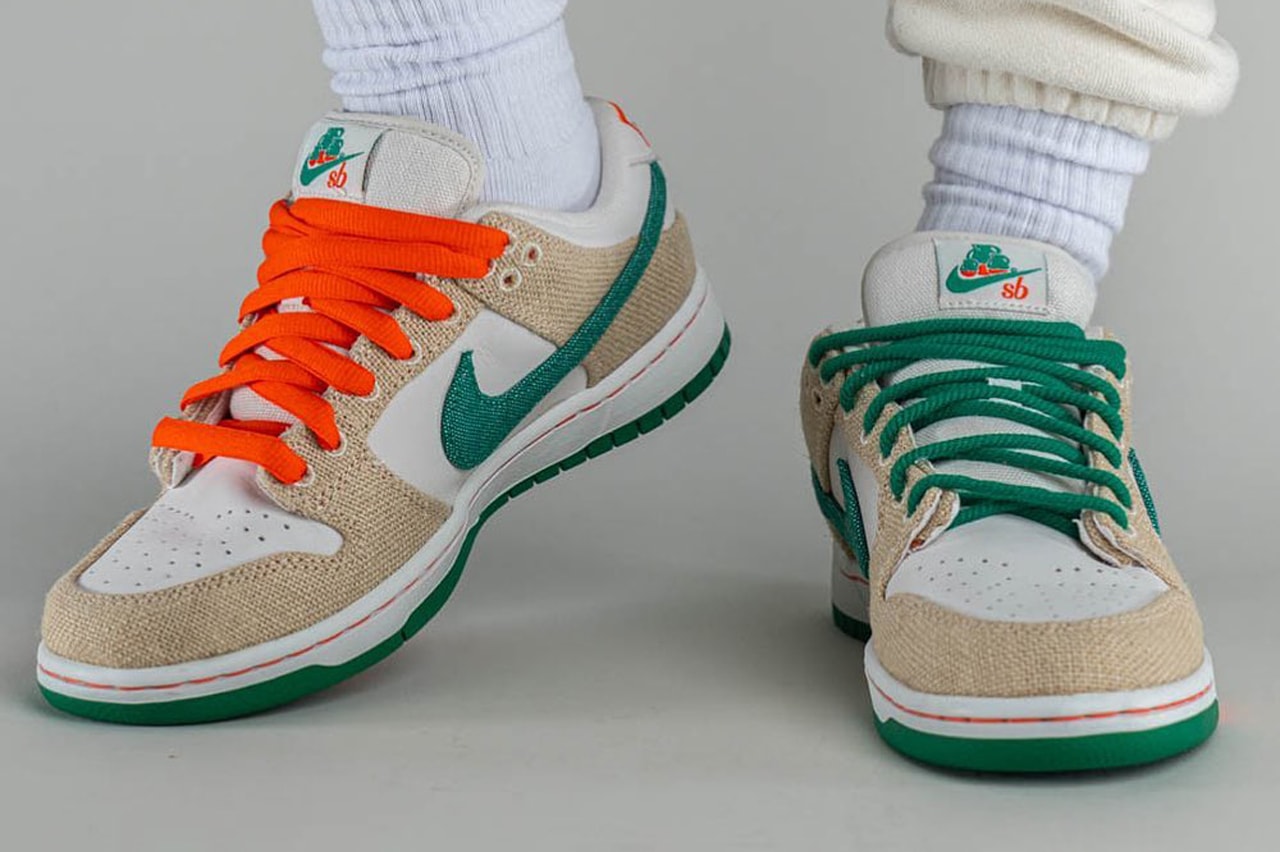 Image: Hypebea
What you need to know
In comparison to the bottles, however, the model will have a much more neutral look. The shoe comes in a white leather base with hemp overlays across the shoe. The swoosh comes in green, matching the outsole save for a touch of orange, which is also present in the stitching on the otherwise white midsole. Nike and Jarritos brandings are present in orange and green on the heel and tongue, and Jarritos' signature jug is embroidered in green, pouring out an orange drink on the heel of the shoe. The Nike SB Dunk Low Jarritos will also come with three separate lace options: white, orange and green.
Whilst the sneakers have quite a tame look compared to their bottles, the colorful bottles are instead represented on the sneakers in the layer underneath. This is because the model features a wear-away upper. Either by manually using a precision knife or naturally from wearing your kicks, you can uncover an orange leather layer matching the bottle and Jarritos branding on the shoe. This is not the first time such a look has been used on the model though. The SB Dunk was originally made for skateboarding so a wear-away upper that rewards wearers using it for such purposes makes perfect sense.
Such a surprising release is sure to catch people's attention, but it is the level of detail paid to the sneaker which has kept people interested. Moreover, the hemp overlays offer a more laid-back style that is more wearable on a day-to-day basis than a collaboration as wild as the Nike SB Dunk Low Ben & Jerry's Chunky Dunky. Let's just hope this Jarritos collab won't be as rare.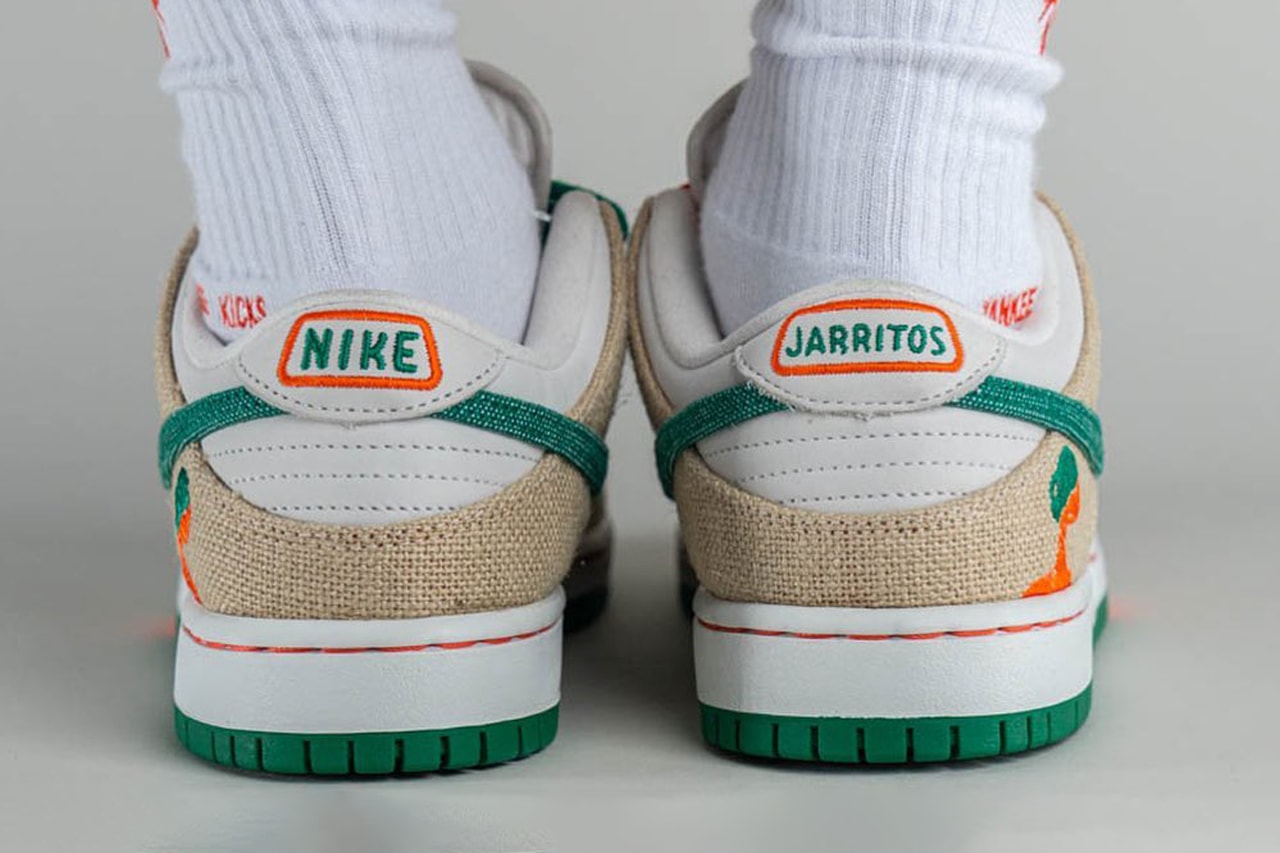 Image: hypebea
Where and when will it release?
The Nike SB Dunk Low Jarritos releases on May 6th at skateshops and on May 10th at the SNKRS app. After which, you could check out WOOVIN as your one-stop shop for all sneaker needs from trusted sellers.