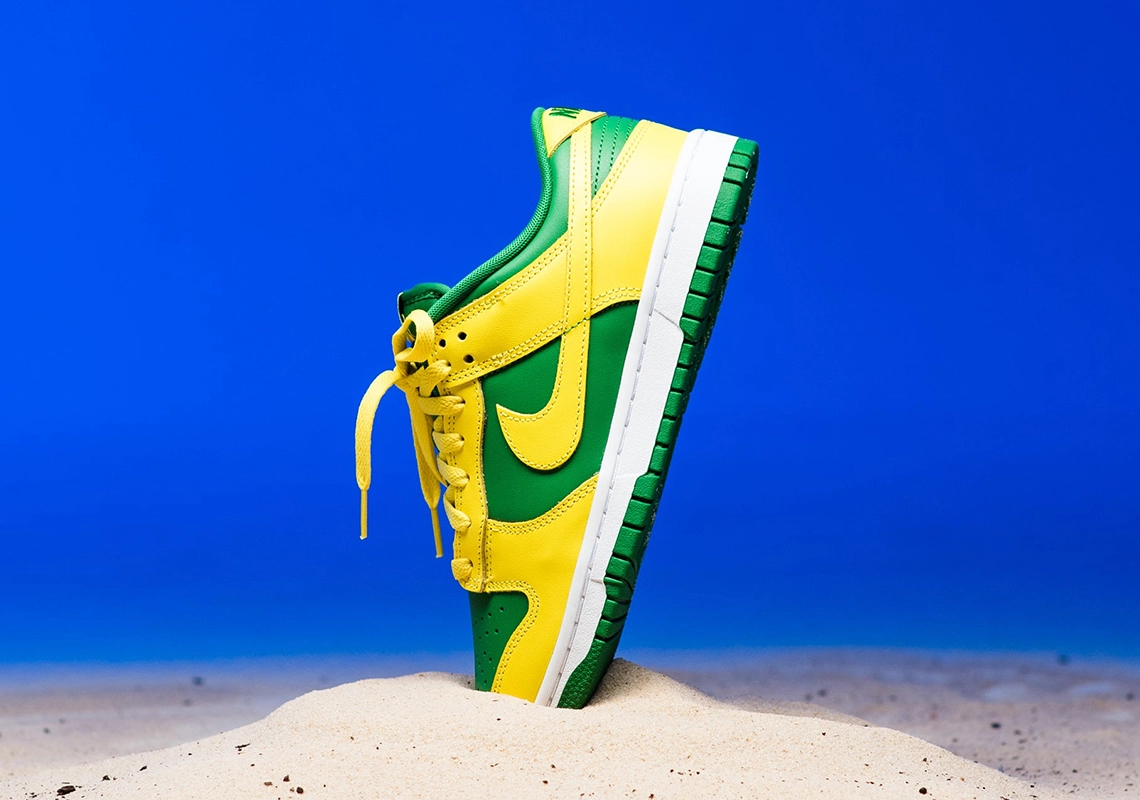 Image: Sneaker News
Nike has gone through their extensive catalogue of Nike Dunk colorways, all to widespread acclaim. They have now started to bring back some of the most popular styles, but with the colors flipped. For example, the black and white Panda dunks saw their black and white detailing switched around on their reverse colorway. And, after similar releases of the UNC Low and Golden Highs, it's now the Brazil Dunk's turn with the release of the Nike Dunk Low Reverse Brazil.
What you need to know
The shoe will come in a green leather upper, with yellow leather overlays, inverting the original Brazil color blocking. Paired with a white midsole and a green outsole, the shoes laces, tongue tab and heel tab are all yellow. The simple colorway is reminiscent of the first Dunks in the 80s, fashioned on the colors of Nike schools.
Back in 2020, the Nike Dunk was just starting to make its comeback. The Off-White Dunks had just released, closely followed by Travis Scott's SB Dunks which were even more popular. And Nike was ready to pounce on this new uptick in demand. One of the first few pairs they did this with was the return of a model first released in 2001. The Brazil Dunk. The shoe was a massive success, and this general release was evidence that the Dunk, not just on collaborations, but as a model, was officially back.
The release of a reverse colorway of Brazil brings back some nostalgia. Both regarding the success of the Nike Dunk during the 2000s. As well as the start of this current wave of Nike Dunk popularity, which we are still living through. Now those who missed out on the Brazil Dunks the first time around can claim its inverted brother. Which will also likely release in greater quantities.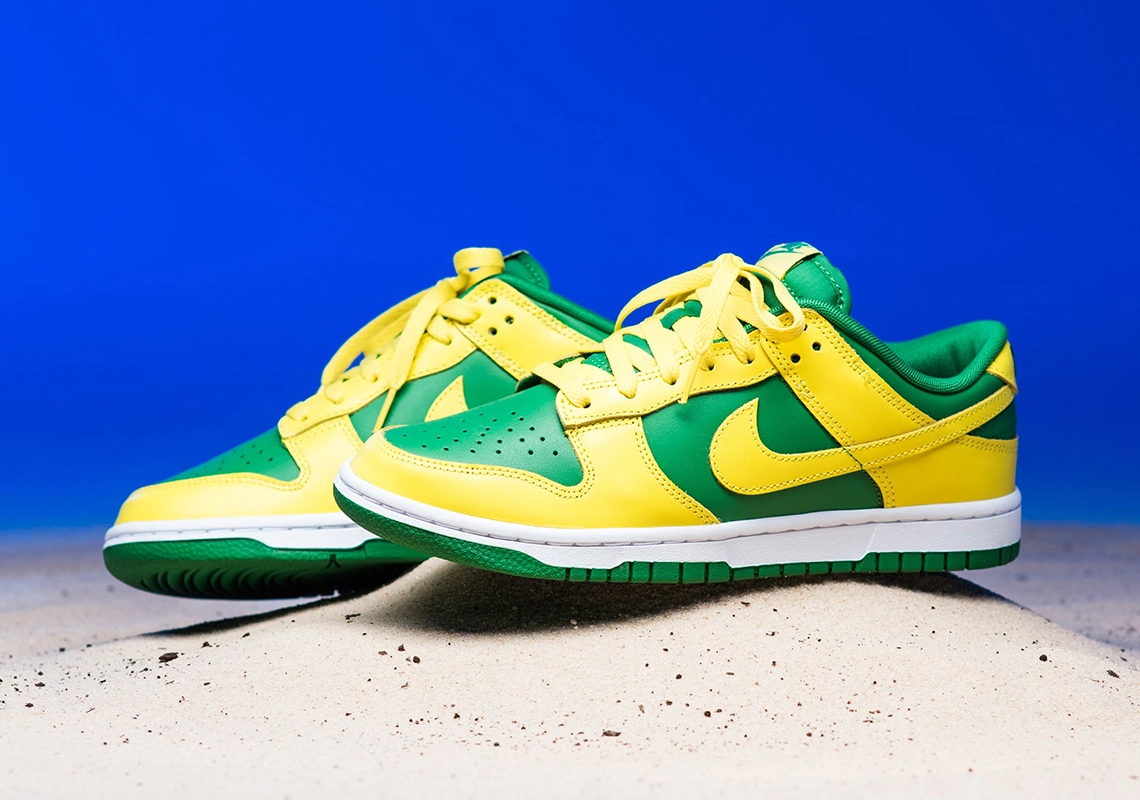 Image: Sneaker News
When and where will it release?
The Nike Dunk Low Reverse Brazil has had a staggered release worldwide, finally properly releasing on March 6th. Therefore, it is now available both to buy and sell right here at WOOVIN.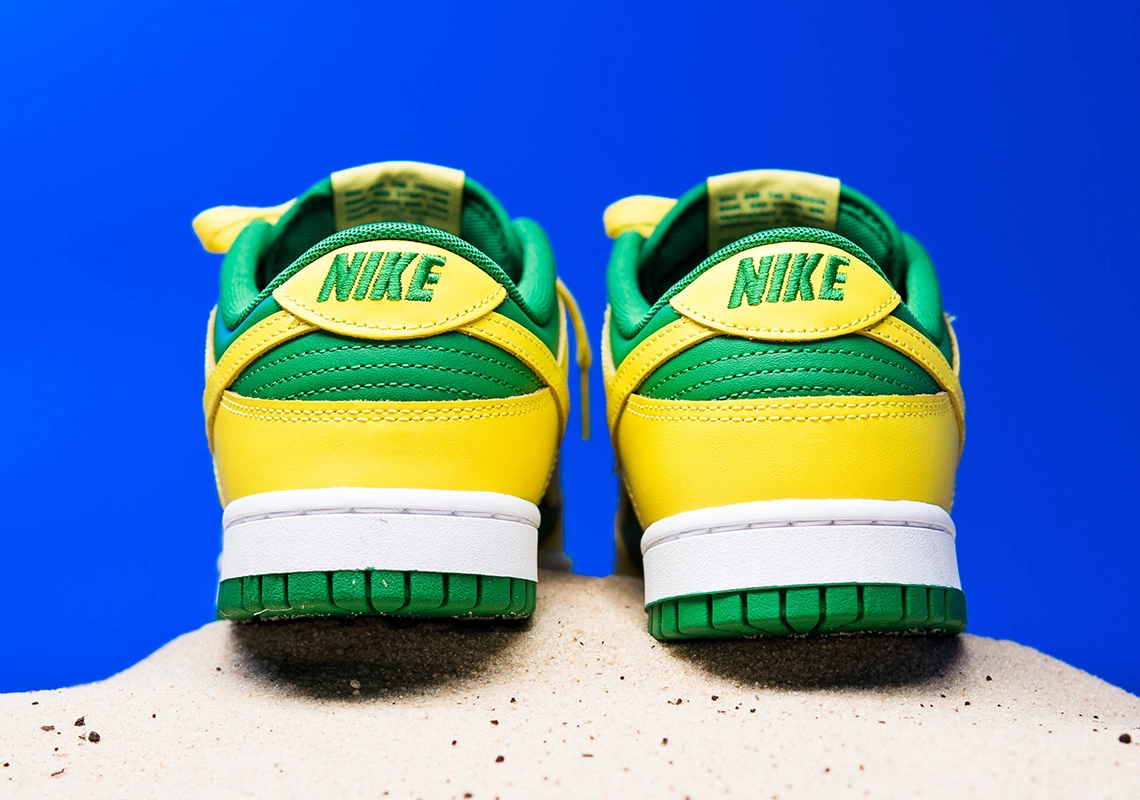 Image: Sneaker News