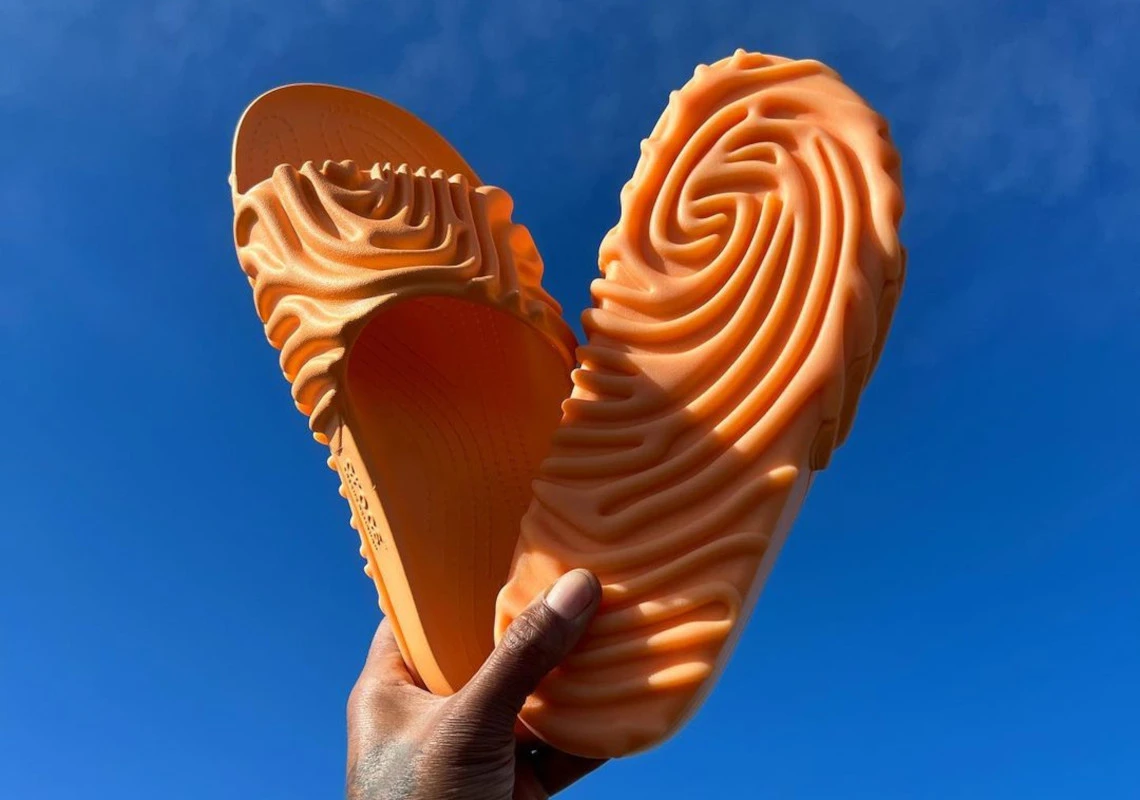 Image: Sneaker News
After their successful first collaboration together, Salehe Bembury and Crocs have teamed up once more to create a brand-new product. Perfect for summer, their brightly colored slides will be ideal for lounging around or trips to the beach.
What are they?
The slides will come in the same one-piece foam construction as Bembury's Pollex clogs, as well as also featuring the same fingerprint mold – a running theme throughout his work, which has come to be somewhat of a logo or signature detail for the designer. The model will debut in a "citrus milk" colorway, which looks to be a pastel-colored shade of Orange. However, we imagine we will see the slides in a number of colorways over the coming years. Especially since last month, Bembury agreed to extend his deal with Crocs another two years as their "Pollex Creative Director."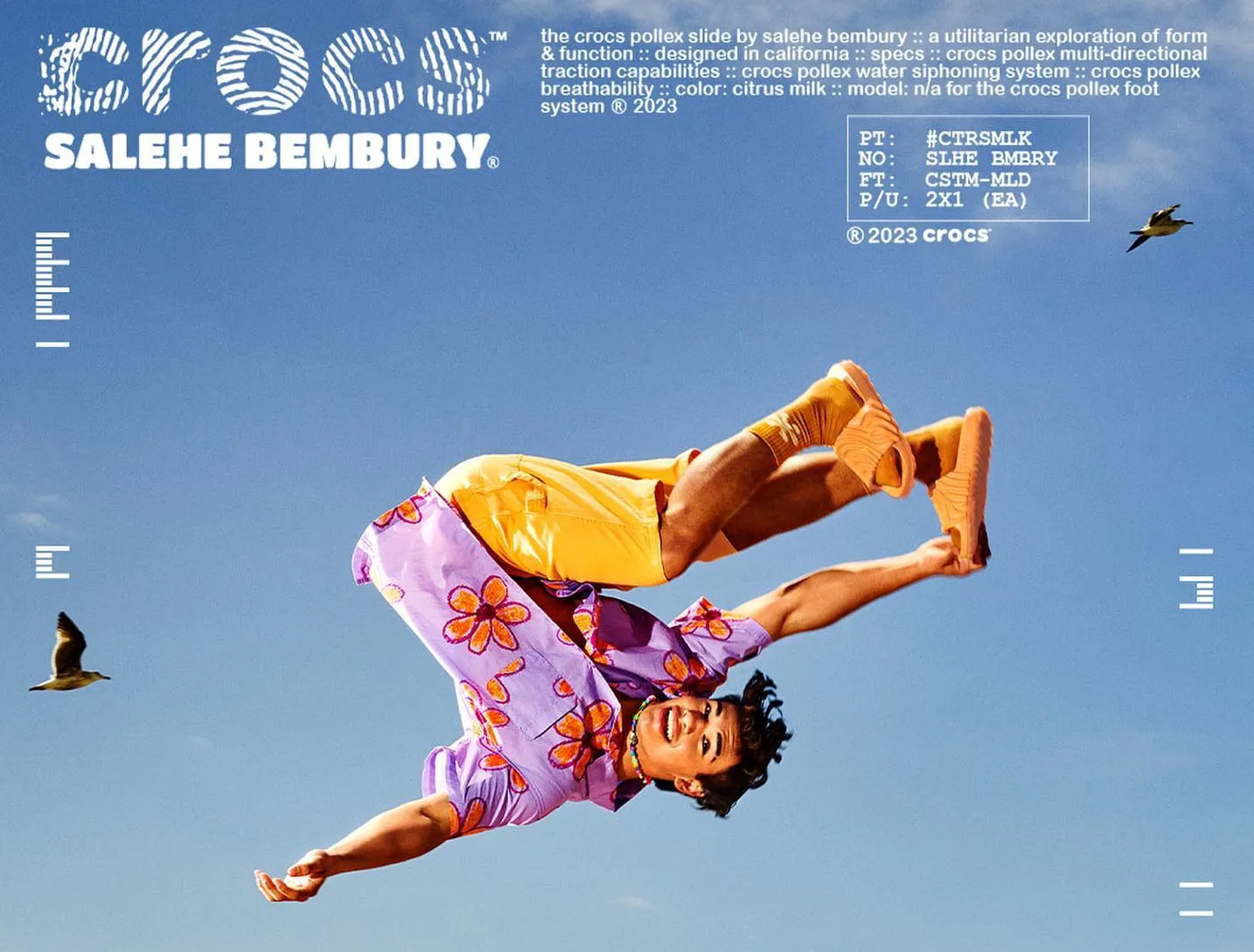 Image: Sneaker News
Some background
This comes after the highly successful Crocs Pollex Clog by Salehe Bembury, which was originally released in 2021 but then continued to release in several bright colorways throughout the last few years. During this time, Bembury has also worked with a number of other brands, namely New Balance. His long-standing collaborations have cemented his place in the sneaker game and the star power his name can bring. As well as juggling his own brand, the "BEASPUNGE" brand, and his creative director duties for the Uninterrupted clothing line. Bembury has had a busy couple of years.
But Crocs as a whole has seen a massive boost in recent years. From collaborations with Justin Bieber and Post Malone to celebrities like LeBron James donning the footwear. They have returned to popularity, particularly with the younger generation. And Crocs have made every attempt to capitalize on this, announcing in 2021 that they are aiming for $5 billion in yearly sales by 2026. The continued partnership with Salehe Bembury seems to be a continuation of their keenness to remain in the public eye as part of popular culture.
Choosing to pivot to a slide for their next partnership is only natural for Crocs, since they are known for their easy, loose-fitting footwear. Focused primarily on comfort, no one goes to Crocs for high-performance running sneakers. It's the go-to for a comfy pair of shoes to slip on to complete everyday tasks. Therefore, after Salehe Bembury created an updated take on the clog, it makes sense to pivot to using the same technology on Croc's other main product, their slides.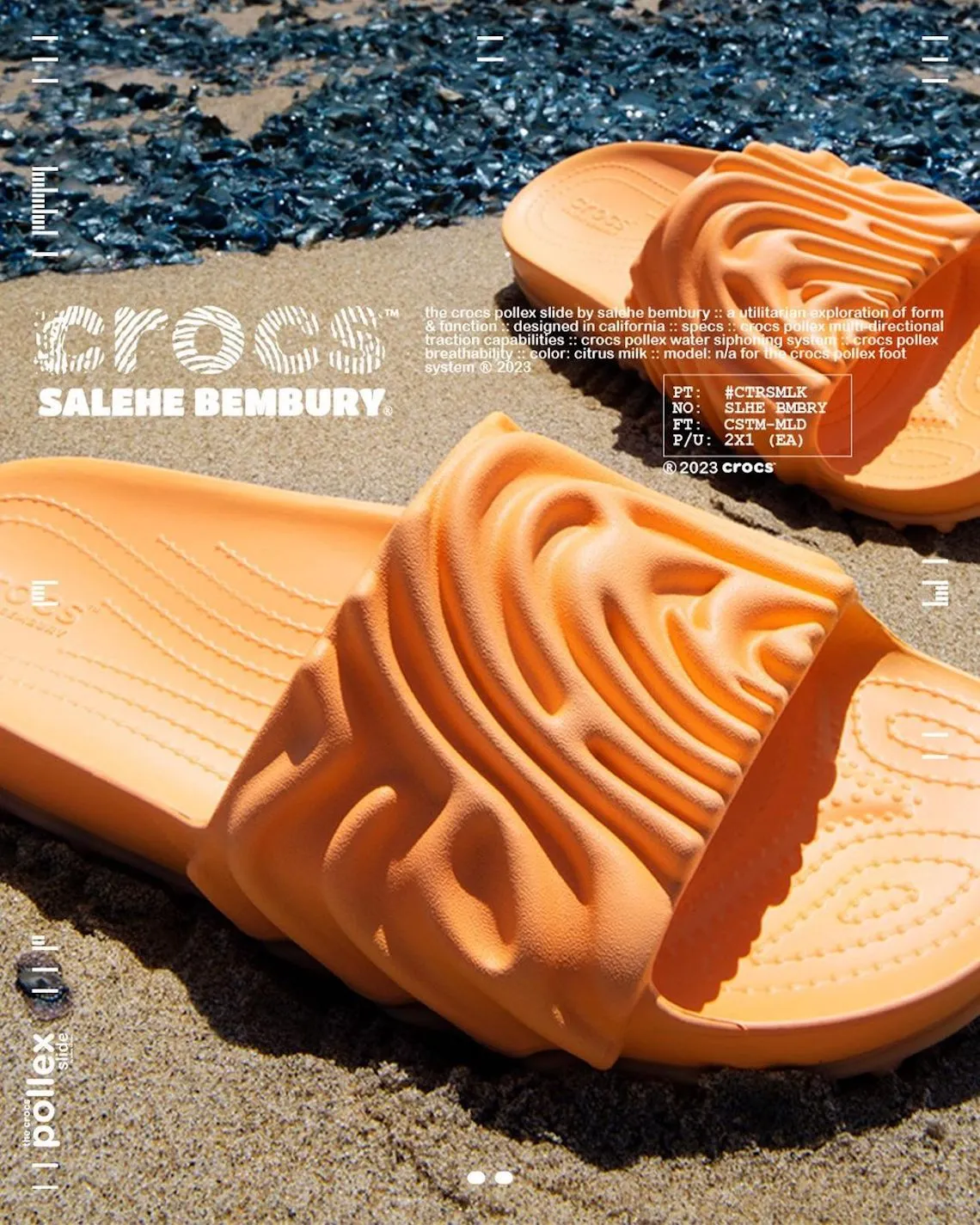 Image: Sneaker News
When will they release?
The Crocs Pollex Slide by Salehe Bembury will release its first "Citrus Milk" colorway on May 25th. After which it will become available to buy and sell here at WOOVIN. Until then, check our site for Bembury's past releases, including a selection of the Crocs Pollex Clog by Salehe Bembury.