Over the last few years, New Balance, a brand previously alien to the resale market has now established its place within the market. Including on our very own WOOVIN. And so, we've decided to pick out four standout New Balance silhouettes. All of which are available on our website now!
Image: Sole Retriever
New Balance 1906D Protection Pack Harbor Grey
After a slew of successful protection pack releases on the New Balance 2002R, in-house designer Yue Wu has brought his amazing idea to the New Balance 1906D Protection Pack Harbor Grey. With some of the most intriguing panelling on any shoe on the market right now, the 1906D is the perfect shoe for the distressed, worn-down look that the protection pack offers. Particularly since it's said to be inspired by the worn-down New Balance's rocked by everyday New Balance fans. The protection pack models controlled chaos continues to be a hit with sneaker fans.
Image: Sneaker News
Patta x New Balance 990v3 Olive
Next on our list is Patta's latest collaboration with New Balance on the 990v3. The Patta x New Balance 990v3 Olive is dressed in subtle olive greens, and then hits of neon green on the toe and heel sections. In doing so, mixing a bit of what we have come to expect from New Balance, with a burst of energy. This shoe is also a particular favourite given Patta's Amsterdam roots, as well as their history of amazing collaborations.
Image: Sneaker Freaker
New Balance 550 Aime Leon Dore White Red
One of the most famous shoes of the last few years is the New Balance 550, which started gaining popularity, especially in New York, after it collaborated with Aime Leon Dore. A clothing brand and retail store also based in New York, the red and white colorway of the New Balance 550 Aime Leon Dore White Red stands out due to its its retro look which matches the 80's basketball silhouette. And the sail-colored sole adds an aged look, fully leaving into the retro theme.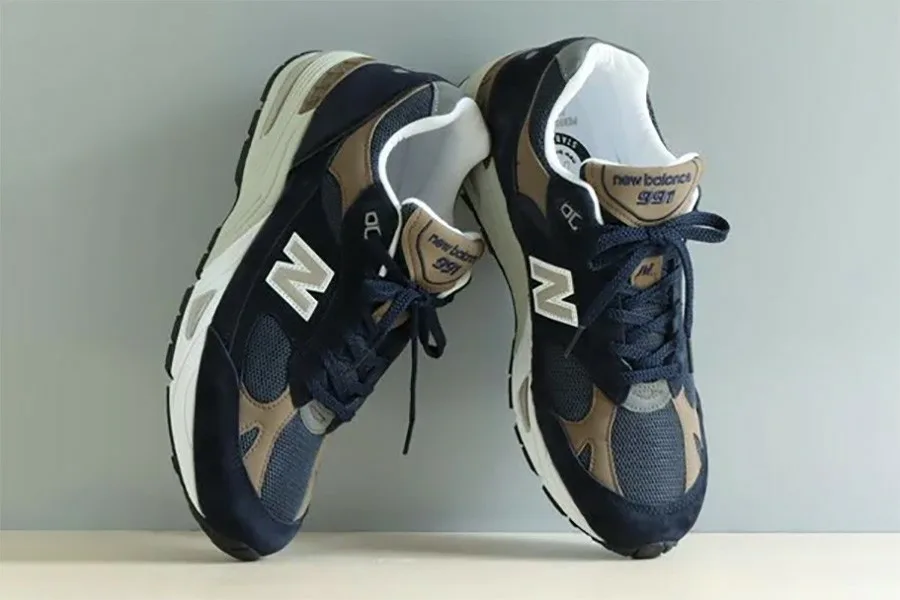 Image: Hypebeast
New Balance 991 Made in UK Navy Sand
Last on our list is no collaboration but instead a classic silhouette, produced in Europe, in New Balance's UK factory. The New Balance 991 Made in UK Navy Sand is a beautiful running model, with a streamlined build, and high-quality materials, that match New Balance's brand identity perfectly. And its production in the UK, in New Balance's Flimby factory, assures that you're getting a very well-made product. The only downside to these releases can sometimes be the steep pricing, but pairs of the Navy sand 991's are available now at WOOVIN for well below retail!