Nike Dunk "Panda"
Granted, this is not a new release, but in fact, a restock, of the Nike Dunk "Panda," a shoe we have become accustomed to over the last few years. The black and white version of one of the most popular shoes of the new decade, Nike has chosen this colourway as the one they are happy to give to consumers again and again. Sure, for some this release is dull and they have become tired of the colourway, but since the shoe will be so popular, it would be unfair to not include it in this list.
Image: Sneaker News
Neckface Nike SB Dunk Low
Another Nike dunk, this time in its skateboarding variation, makes the list, thanks to an exciting collab with Graffiti Artist Neckface. Covered in a scattered number of patches, the shoe has a unique aesthetic reminiscent of the Artists style, that perfectly complements a skater's look or outfit. These patches also continue onto the midsole which is a nice touch, and the untidy sewing makes it look like a DIY project gone right.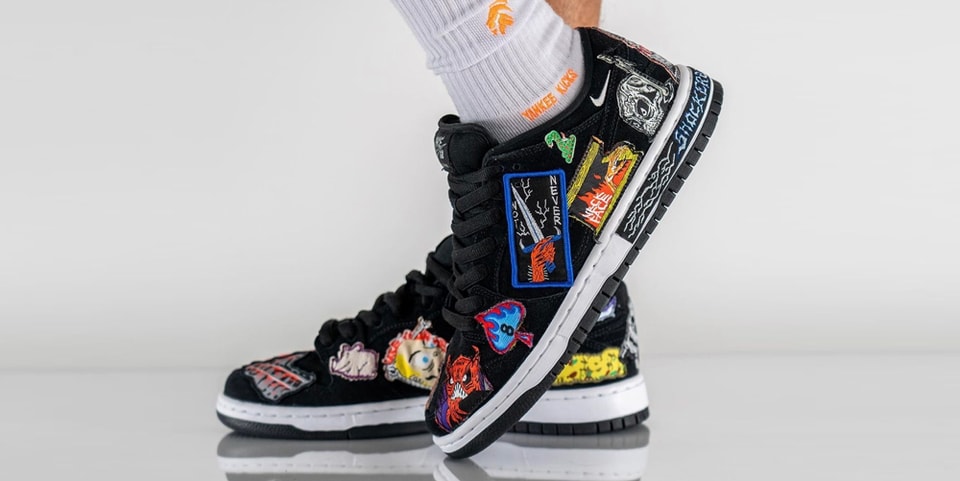 Image: Hypebeast
Nike Air Max Scorpion
A brand-new Air Max model is always a big deal, but the upcoming release of the scorpion is shaping up to be a special one. Featuring an outlandishly large air bubble that spells a significant step forward in air cushioning technology, the scorpion's sole pops out from underneath the shoe, and is paired with a similarly modern upper to create a look straight out of 2030. We can't wait to see this model in person, especially after all the commotion it caused online.
Image: Sneaker News
Air Jordan 3 SE
We all love Air Jordan 3's, and any new colourways deserve to feature on a list like this, but the latest colourway to hit the stores is less than traditional. Rather than featuring team colours and basic colour blocking, the shoe features a brown upper and soft pink detailing that offers an earthy feel, a highly popular aesthetic for shoes over the last couple of years. Moreover, the hose updates its materials, adding mesh and suede, and replacing the iconic elephant print that would usually be used to identify the Air Jordan 3.
Image: Sneaker News
Nike Zoom Vomero 5 Cobblestone
Now for those seriously tapped into the sneaker world, this pick won't surprise you, but if you are just getting into New Balance runners, let me put you on. The Nike Zoom Vomero 5 has been a popular runner since its original release in 2010, because, well… look at it. It's a beautiful shoe that perfectly brings you back to that age of late 2000s/early 2010's runners, thanks to its mesh panelling and plastic midfoot section. And as we have seen from the last year, with Asics and New Balance, this style of shoe is fully back in style. Moreover, a cobblestone colourway, that features muted colours that will be easy to put into an outfit, makes this shoe one to watch this October.
Image: Sneaker Freaker