As we collect more and more shoes, we become aware of all the different features and additional brand names tagged onto them that help to market these products. But it's not all marketing, certain features have become marks of quality craftmanship justifiably, or exciting tech that extends past the gimmicks of sneaker-tech 30 years ago. We wanted to highlight some examples that have been particularly popular and point out what we think is so special about them.
First off, we have Gore-Tex. Possibly the name on this list that comes with the most respect and trust, Gore-Tex tech is known for its heavy-duty nature and waterproof status. Used on hiking and trail running shoes from Hoka and Salomon, the technology has seen many entries into more mainstream sneaker fashion, being used on the Air Jordan 1 and soon the Air Jordan 5, as well as the infamous Air Force 1.
Image: KicksOnFire
Next, we have Vibram soles, which cater to a similar demographic as Gore-Tex, making grippy and durable soles capable of withstanding any weather. The difference with Vibram however, is the scale of its monopoly over smaller sneaker companies, with brands like Brandblack, WeAreUnderdogs, and Nnormal all using their products. But the soles are respected by big names in the sneaker game too, most notably being used by Merrell and Hoka, who have recently seen a run of popularity. Whilst soles are normally focused on the cushion debates between Boost and Max Air etc., recent trends in Gorpcore have reminded us you can't go wrong with a Vibram sole.
More of a general piece of tech, rather than a patented product, knitted gear has and likely will always have a place in the world of shoes. Particularly common in the world of running and basketball shoes, knitted uppers have revolutionized the world of slip-ons and sneakers that have forgone the traditional laces. All Birds are an example of a brand that has recently used Knit to great effect, on their Tree Dasher models, whilst PrimeKnit and FlyKnit continue to be go-to materials for Adidas and Nike respectively.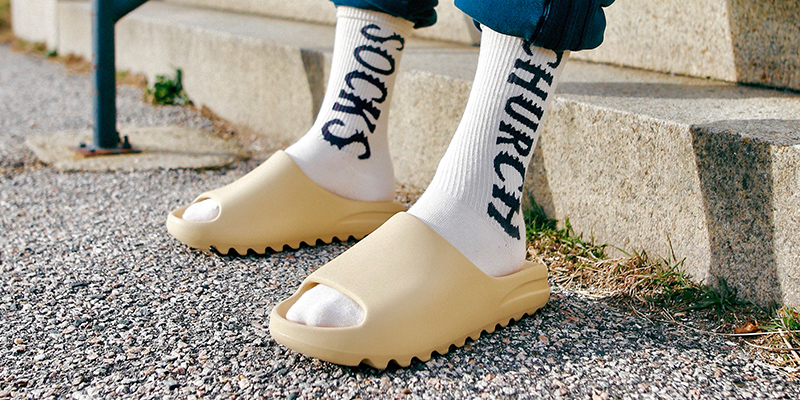 Image: Farfetch
Lastly, we have 3D Printed sneaker parts. Now, at first, this seemed like a bit of a gimmick. Adidas' 4D looked very promising, but it ultimately failed to cash in on its buzz and was quickly forgotten about. But more recently, we have seen entire shoes being 3d printed. More specifically, slides have returned in a big way, partly due to their large-scale production thanks to improved 3D printing capabilities. Adidas and Yeezy Brand are possibly the most notable examples of this with the Adilette 22 and Yeezy slides, but smaller brand Zellerfeld has also pushing the envelope on how far this tech can go.